We are halfway through the race and have completed the first 5 out of 9 legs. We are currently in Lawrenceville, IL. We flew 3 legs on Day 1 and 2 legs on Day 2. We are doing well, but are tired. While we have not had terrible weather, we have had some challenges along the way.
The first leg we experienced some light rain. The second leg was some marginal VFR, meaning the clouds were within 3000' AGL (above the ground). The third leg weather was fine. The biggest challenges on Day 1 were the fly-bys across the timing lines. We do a fly-by at 150 kts at 200' AGL to start and stop our time for each leg. The patterns were very congested with planes arriving, landing and departing. We even had to do a dual fly-by, as we were overtaking a slower plane at the timing line.
Day 2 we encountered Marginal VFR along most of the route, but we were able to safely fly across the flat lands of Indiana, Michigan and Illinois and stay below the scattered layer of clouds. We were unable to fly leg 6 this afternoon due to a large thunderstorm approaching Kirksville, MO. We decided to not take the risk and settled for a nice dinner.
Hope you are enjoying following us. We are having a lot of fun interacting with the other race teams. The camaraderie of fellow women pilots cannot be beat. Here are a few pictures taken at the start and along the race route.
At the Race Start
Leg 1 Light Rain Showers
Virginia Mountains
Distant Rain Showers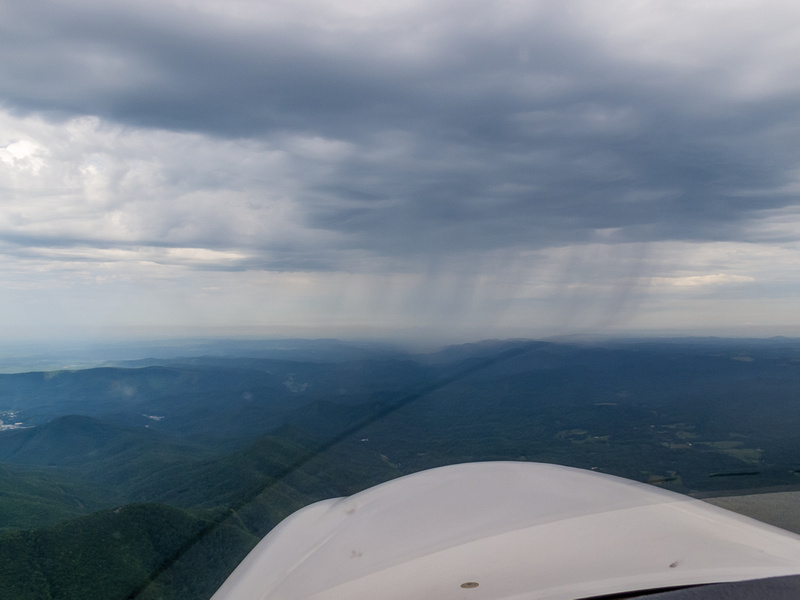 West Virginia Windmills
Indiana Farmland